This is our review of Ubuntu 21.04 Hirsute Hippo. This release is a dedication to Adam Conrad, a respected Ubuntu Developer, who passed away earlier this year. It is a fun computer operating system, quick and responsive on today's hardware standard, with full of useful apps and amusing games, with a few of challenges and shortcomings. Let's see it together.

Subscribe to UbuntuBuzz Telegram Channel to get article updates.
What's New?
Among many others, here's the highlight:
Hippopotamus theme by the codename Hirsute Hippo.
2.6GB and 1.1GB size for Desktop and Server, respectively.

Wayland is officially the default.
Active Directory (AD) support at the installation time.
ZFS technology choice at the installation time.

What's new in Ubuntu 21.04
1. Installation

Hirsute takes about 15 minutes to complete the installation to a laptop. Now, Ubuntu supports corporate users who work with Microsoft's technology as it features Active Directory (AD) domain configuration built-in visible in Ubiquity. Post-installation, at the beginning user will be presented with a nice welcome, a privacy setup, and an All Done! message before going to the workspace. If user installs Ubuntu in dualboot mode, the bootloader appearance is still the same as the usual GNU GRUB 2.

2. Appearance
Here's how Ubuntu Desktop 21.04 looks like. Picture below is taken with 1920x1080 (1080p) display resolution and Hirsute desktop looks fit & proper on it. It features a hippopotamus as the wallpaper, as usual, with orange-pink-purple color theme. For Windows and MacOS users, its right and fixed top panels are its trademark.

As a bonus, please enjoy this slideshow of Ubuntu Hirsute.
1900's
3. Applications Included
Hirsute offers latest and greatest of today's Free Libre Open Source Software (FLOSS) applications by default. The names are the same but the versions are mostly upgraded for example Firefox web browser's now v88, LibreOffice document suite's now v7.1 Community Edition, and GNOME Apps are now v3.38. Visit here to see them all.
For new comers, you may notice it follows standard buttons on the right of each window -- however, each window's title bar is huge. Only with Firefox, it doesn't have title bar separated with the contents, but rather combined with tab bar, which can be reverted back by going to Customize menu and enabling both Title bar and Menu bar.


4. Performance
Hirsute makes use of ~800MB. It still works on a computer with 1500MB of memory. On a 10 years old laptop, Pentium 64-bit, Hirsute works with 2, 4, and 6GB of memory. However, it works fast and responsive on ThinkPad T430 with Intel Core i5 processor.

5. Subtle Improvements
There are several small but noticeable improvements we will find in Hirsute. For example, our daily tools got fresh designs & new features, such as Backup, Screenshot, and Software & Updates. Let's visit them.
Software & Updates under the Updates tab now incorporates Snap package updates. What is Snap? You might find our Snap explanation useful (
click here
).
Screenshot got a new design! It is more compact, clearer to see and use. Full, window, and free shot options are now displayed in three large buttons horizontally rather than three small radio buttons vertically with Delay timer displayed at the bottom. Notice the round corners at the bottom of its window? That's the sign that Ubuntu will eventually updates its apps to GNOME Apps v40 and yes several apps in Hirsute are already v40 such as Calculator.

Backups (also known as DejaDup) got new design too. It's now simpler with only two options at the beginning, and further configuration later. Ubuntu makes the user able to backup to Google Drive automatically thanks to Backups.
Software now can inform the user about sources of an application whether an app is from official repository (DEB) or Snapcraft.io (Snap) if available. Like example below, an app called Snap Store installed (called Ubuntu Software at application menu), is shown to be a Snap, not a DEB, that can be updated from Snapcraft.io.

6. Application Installation

To add/remove apps, we use Software. It is the central place to manage all apps and updates. Generally, Ubuntu applications are divided into two kinds, the official packages (DEB) and the Snapcraft packages (Snap), user may choose in Software. In general. one first run Software and then search for a wished app and then press Install button to finish it and finally run the app from the Application Menu.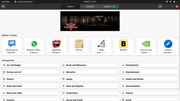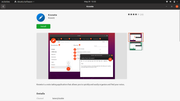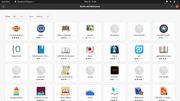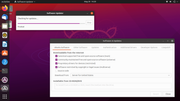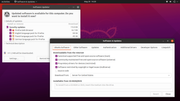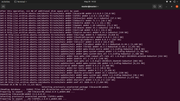 Today, Ubuntu is able to install apps from the central website,
Snapcraft Store
, by using web browser which will immediately runs Software once the Install button pressed.
7. Daily Life Purposes and Games

Generally everything is centered into Files, the file manager, as we work with all data and folders in it. Ubuntu Hirsute can read write Windows' disk drives so you will find it convenient to just open the partition and work with the files if you are dualbooting. Viewing photos done with Image Viewer. Managing cameras done with Shotwell. Working with text documents done with Writer. Speadsheets done with Calc. Presentations done with Impress. For internet purpose, we have Firefox to browse the web and Thunderbird as our handy mail box.
Viewing pictures are all easy with the Image Viewer since years at Ubuntu. Alternatively, on the same system we are also powered by Shotwell, a powerful camera & photos management tool, which is able to help arranging and cropping photos. These two are interchangeable if user wishes.

Document makings are done with Ubuntu's office suite, LibreOffice. On Hirsute, it reached version 7, which had superb features like better Tab Bar (similar to MSO 2007) and better compatibility. User uses Writer to produce normal text documents including PDF files, Calc to produce spreadsheets and charts, Impress to produce impressive presentations, and Draw to edit PDF and produce everything similar to what MS Visio can produce.

Browsing the internet, web and emails are done with the long living Firefox and Thunderbird on Ubuntu. On Hirsute, they reached versions 87 and 78, respectively.

There are thousands of video games available on Hirsute. It also includes education games for school kids. When you open Ubuntu Software, you will be offered plenty, however there are proprietary licensed as well in there. Here's several games available (marked [*] is proprietary):
Tux Typing and Tux Paint -- edu games for kids.

SuperTuxKart -- funny racing similar to Crash Team Racing.

OpenArena -- fast-paced multiplayer, 3D first person shooting.

OpenRA -- war oriented real time strategy, similar to Red Alert.

Flare RPG -- adventure, role playing game similar to Diablo.

Megaglest -- medieval fantasy 3D game similar to Warcraft and Empire Earth.

Wolfenstein[*] -- 3D shooting like Counter Strike.
Steam[*] -- the famous portal of mainstream games.

8. Graphics Purposes
Ubuntu Hirsute supports your art & graphics purposes. Do you know that since years Ubuntu provides for us very good graphics software, used by professionals? Look at a beautiful table of applications below, by PIXLS, a Free/Open Source Photography community, the good news is that almost all applications mentioned here are available on Hirsute. More good news is that more graphics apps are still available on Hirsute even though they are not listed at PIXLS.

Below is Image Viewer showing some beautiful photos of aurora and scenery. Photos displayed are taken from our favorite public domain source Unsplash.com.


Below is Rawtherapee, one of tools used by PIXLS community, running on Hirsute to process photos. For those from proprietary software world, Rawtherapee is a similar tool to Adobe Lightroom.



Below is Gimp, also one of PIXLS community tools, the infamous free/libre and great image editor for all computer users, available too on Hirsute to edit photos similar to what Photoshop is used for.
Lastly, below is Inkscape, one among great tools not mentioned by PIXLS, running on Hirsute to draw illustrations and edit vectors similar to
Illustrator
or
CorelDRAW
is used for. Artwork displayed is
Island of Creativity
by Bayu Rizaldhan Rayes the winner of Inkscape 2019 world contest.
9. Educational Purposes
Ubuntu Hirsute provides and supports many educational fields. It provides a clean user interface with accessibility features.

(Scilab with Xcos, a mathematics suite, a replacement to Matlab and Simulink)

Hirsute is also ready for teaching purposes especially the online one. As I run an online classroom using a combination of
Telegram and Jitsi or BigBlueButton technologies
, I can say doing it with Hirsute is nice. Below is a picture of one of my classes from June 2nd depicting in clockwise order,
Telegram
as the main classroom for students submitting all assignments,
BigBlueButton
as the screen sharing viewport, file manager showing course materials written and are readable with
LibreOffice
, the online course website, and the schedule table (created with Writer).
10. Software Development Purposes
Ubuntu Hirsute provides complete suites and choices of software development for developers. For complete desktop solution, we are offered the world class leading technologies, which you can use to develop cross platform desktop applications, among them are Qt SDK, and Glade + GTK, and Lazarus + FreePascal, and also Netbeans + OpenJDK. For web solution, we are also offered with the most popular technologies like PHP, Nodejs, and Django. The user can install them with Software or APT. These mentioned names does not limit the vast selection of other languages, libraries, and programming tools and utilities we will encounter on Hirsute.
Below is Qt SDK to develop apps by drag and drop in Cpp language:
(Designer, a part of Qt SDK, is being used to create a web browser application)

And below is Lazarus IDE to develop same kind of desktop apps by drag and drop too in Pascal language:

(Lazarus, a cross platform tool to develop cross platform GUI apps)

11. Relationship with other OS Releases

At the same time Hirsute releases, there are several other operating systems and technology also release altogether. Among them are, from the free software world, Deepin 20.2 and Fedora 34 released alongside a happy news from Slackware 15 (finally announces its beta after five years of development) from GNU/Linux family and OpenBSD 6.9 from BSD family; while on the other hand from the proprietary software world, Hirsute comes at the era of Windows 10 and MacOS Big Sur.
(This is Fedora 34 with the phenomenal GNOME Forty)

Speaking about technologies other than OSes, Hirsute comes at the same time GNOME 40 (also known as Forty) releases as well as Plasma 5.21. We can hope for sure the next Ubuntu, Impish Indri, will include Forty desktop October this year.


12. Compatibility with ThinkPad and Shortcomings

We confirm that our test laptop, Lenovo ThinkPad T430,
works well with Ubuntu Hirsute
by all hardware detected and are functional. It is fast and responsive. All 4 USB ports work. Display, keyboard and touchpad as well as the red TrackPoint work as expected. Both bluetooth and wifi detected, work as expected. DVD-RW works as well. Indicator leds and the additional buttons over the keyboard all work. Lastly, the kill switch also works. As an important addition, our internet access tool, Huawei Mobile Wifi, works with the Hirsute ThinkPad either it is via wifi or automatic USB tethering. See our hardware list at
Linux-Hardware.org
.
Minus points in this release to our understanding are:
It requires good hardware by today's standards and not suitable anymore on old (32 bit), lesser hardware (like 1GB memory, for example).

Unable to kill Firefox by name anymore with killall command.

Conclusions
Ubuntu 21.04 Hirsute Hippo is a fun computing for modern days. It works fast and responsive on a Thinkpad laptop. It sets out to be a standard of computing by competing with other desktop OSes namely Windows and MacOS with its own way -- with pinkish purple, animals, and GNOME. Once again, it just works. Last but not least, thank you Adam Conrad for all and everything humanity for human beings you have done on computing, on GNU/Linux and FLOSS, and especially on Ubuntu.

Glossary
Ubiquity: the installer of Ubuntu system.
GNOME: the user interface of Ubuntu.
Snap: the new software package format on Ubuntu.
Snapcraft.io: the place in the internet where users download Snaps from.

Ubuntu Software: the application store.
---
This article is licensed under
CC BY-SA 3.0.